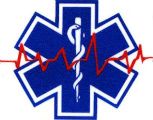 Welcome to the Stars Hollow Gazette's Health and Fitness News weekly diary. It will publish on Saturday afternoon and be open for discussion about health related issues including diet, exercise, health and health care issues, as well as, tips on what you can do when there is a medical emergency. Also an opportunity to share and exchange your favorite healthy recipes.
Questions are encouraged and I will answer to the best of my ability. If I can't, I will try to steer you in the right direction. Naturally, I cannot give individual medical advice for personal health issues. I can give you information about medical conditions and the current treatments available.
You can now find past Health and Fitness News diaries here.
Follow us on Twitter @StarsHollowGzt
It is Bastille Day, so we've put together a fine new video recipe for French fries that you could make this evening in a hiss and bubble of oil, then serve with a simple pan-fried steak, some béarnaise sauce and a thatch of watercress, alongside a glass of vin rouge. Steak frites! To the barricades!

French fries at home are fantastic, after all. Of course, they're messy to make. There's the oil, the double-frying, the way the process can take over your kitchen, and I fully understand those who would pass on the process of making them, especially in the middle of summer. (You could cook them outdoors, if you have a propane hob and a big pot, and a fry basket, and a wide table to use as a work space?)

Your reluctance doesn't mean you can't enjoy the crisp-soft salty sweetness of excellent potatoes for dinner tonight, and celebrate the French.

I have a good recipe for steak mock frites you could use, or you might look to one of the more underrated ingredients in the world of home cooking and particularly the state of home cooking in the service of children on a Friday night, on the street that I live on in Brooklyn: frozen French fries. (Je suis the ugly American.) Pour out a pound or so of those from a big red bag, and get them super crisp and fragrant in a hot oven. It makes a Friday night meat feast about five times more enjoyable for the kids and, thereby, for the parent cooking it after a long week of long meetings about workflow and staffing.

Sam Sifton ~ New York Times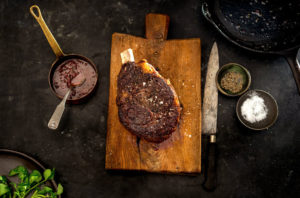 A ruby-rare steak napped with buttery sauce is classic and comforting bistro fare, be it steak frites with a sharp béarnaise, entrecôte au poivre with a peppery bite or a simple rib steak with a red wine reduction.
French fries are one of almost everyone's favorite foods, but many home cooks hesitate to take it on. However, with this cold-oil method for making French fries, it's easy to pull off with just a deep heavy pot and an open window.
There is no better, more reliable restaurant dish than steak frites. It is perhaps America's favorite French food, a cheeseburger deluxe recast for date nights, celebrations, feasts. Few make the dish at home, though: The frites are too labor-intensive for all but the most project-oriented cooks. Here, then, is a recipe to fake out the fries, one that will take even a relatively neophyte home cook little more than an hour to make.
Porterhouse steaks and béarnaise sauce seem to have a natural affinity, with the sauce's tarragon taste playing off the meat's texture.
French Yogurt Cake With Marmalade Glaze
In France, this cake is usually served with a little sweetened crème fraiche, but it lends itself to other toppings as well. Fresh soft fruit, like sliced peaches or plums, is a natural with this as is berries with a touch of sugar.
Health and Fitness News
Are Big Men More Prone to Aggressive Prostate Cancer?
Genes May Explain Why Kids With Autism Avoid Eye Contact
Study Spots Cause of Global Outbreak of Infections Tied to Heart Surgeries
Thyroid Problems May Make Things Worse for Dialysis Patients
Breast-Feeding May Lower Risk of MS, Study Says
CT Scans Might Help Gauge Heart Attack Risk
Fewer U.S. Dollars Spent on Cardiac Arrest Research: Study
Too Few Children Get EpiPen When Needed: Study
New Test May Help Spot Pancreatic Cancer Early
Walking Rates Are Key to a Country's Obesity Levels
Weighing Portions Adds Up to Weight Loss
Easier Colon Exam Boosts Screening, But Insurers May Not Pay
Malaria Drug Protected Mouse Fetus From Zika: Study
New Hope in Search for Vaccine Against Gonorrhea
Pregnancy Complication Costs U.S. Billions
Daily Jolt of Java May Bring Longer Life
Fatal First-Time Heart Attacks More Common in Blacks: Study
Living With Purpose May Help Seniors Sleep Soundly
Medication Mistakes Have Doubled in U.S. Since 2000: Study
More U.S. Patients Are Recording Their Doctor Visits