crossposted at Daily Kos and Truth & Progress
BREAKING: Al Gore's Current TV Wins an Emmy Award for 'Interactive Television Services' — Sunday, September 16, 2007, 8pm-11pm on FOX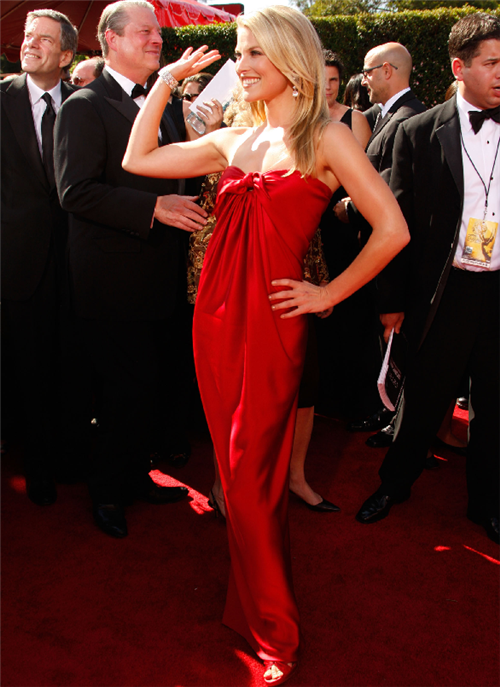 Al Gore and Joel Hyatt Arriving at Tonight's Emmy Awards (behind Actress Ali Larter)
(photo: courtesy 'Snarky Gossip')
I'm watching the 59th Emmy Awards on FOX — yes, even on FOX, this year's Emmys have gone 'all Green' — where it was announced just now that Gore's television network, Current TV, has won the Emmy Award it was nominated for. Gore's walking on to the stage now and I'll update if more news becomes available later tonight.
More below the fold.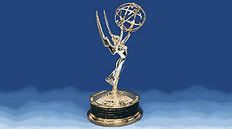 As was pointed out earlier today in this diary, Hollywood Today noted something really interesting yesterday: Gore winning a major award in Spain could result in him also receiving the Nobel Peace Prize on Friday, October 12th
Emmys & Politics: Gore Goes to Green Emmys After Spanish 'Nobel' Win: Several actor/politicians have won Hollywood awards, but not like Gore

By Jeffrey Jolson & Laurie Mavica

HOLLYWOOD, CA (Hollywood Today) 9/15/07 – Former Vice-president Al Gore is building one strange mantelpiece. It already has an Oscar and tomorrow night, it may have an Emmy from an awardcast being themed around Green. And just this week Spain gave him the country's equivalent of the Nobel Prize for his efforts to stem global warming. And he's still a frontrunner for the main Nobel Peace Prize in Sweden.

That's not to mention all the political honors sitting on that long mantle that many leading statesmen might have… And while actors can sweep all four top awards (Emmys, Oscars, Grammys and Tonys) like Rita Moreno did, none can boast a Nobel Peace Prize. Or lay claim to 2005 honors from Harvard for their environmental efforts AND hosted "Saturday Night Live."

Gore won the Prince of Asturias award for international cooperation, considered by some to be a warm-up for the Nobel Prizes, for which Gore is nominated this year in the peace category.
Does Gore need the Nobel Peace Prize? Not really. It isn't as if he hasn't won other awards (see my opening comment) but I would point out that it would only be the fifth time that a US President or Vice President would have won this prestigious prize since 1906. Among other Americans, past winners include
* Teddy Roosevelt (1906) was the first to win it for helping to end the Russo-Japanese War.
* Woodrow Wilson (1919) was the second winner for his League of Nations idea, one that eventually led to the creation of the United Nations after World War II.
* Charles Dawes (1925, Calvin Coolidge's VP) won it for originating the 'Dawes Plan' to collect reparations from Germany after World War I.
* Jimmy Carter (2002) was awarded the Nobel for a lifetime of achievement in promoting peace and his approach to conflict resolution.
What are Gore's chances on winning it on October 12th? See this recent exchange for a range of opinions in this diary and, in particular, click on the links I provide in this comment in the exchange. As the NBC Political Team (no fans of Gore, if you've followed them), recently put it, "If Gore wins it, watch for buzz to explode again. An Oscar, a Nobel prize, why not filing papers too?" In anyone's book, winning the Nobel Peace Prize is a very big deal!
How is 'Current TV' different from other cable channels? Gore implemented this innovative idea in 2005 with his business partner, Joel Hyatt (former US Senate candidate from Ohio), and the cable channel reaches 50 million subscribers in the United States and Britain.
Billed by Gore as a revolutionary TV outlet that encourages a "two-way conversation" with its audience, the 24-hour network airs a mixture of professionally produced segments with viewer-produced videos running from a few seconds to 15 minutes.

Organizers say about 25 percent of Current's programming "pods" – a term borrowed from Apple Computer Inc.'s iPod portable digital music player – consist of homemade pieces dubbed viewers contributed content, or "VC Squared."

The rapid-paced format is targeted at Internet-savvy viewers 18 to 34 years old, a generation Gore said "wants to be in control of its media."

Programming subjects range from fashion and lifestyle trends to news and current events.
Here's a video of Al Gore being interviewed in the UK last year in which he talks about Climate Change and the simple steps that all of us can take to reduce our carbon footprint. From Gore's Alliance For Climate Protection, here's a few more video tips in 'Stars Speak Out' from Hollywood stars like Pierce Brosnan, Naomi Campbell, Will Ferrell, and Julia Louis Dreyfus.
Gore himself had also detailed these steps when he went shopping in an earlier diary I'd written about his appearance on Oprah Winfrey's television show.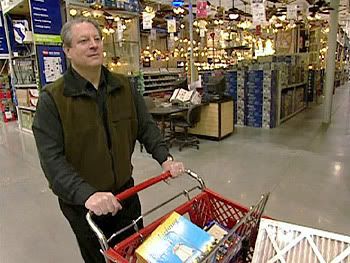 Al Gore Goes Shopping on 'The Oprah Winfrey Show'
I'd never seen the video before and thought I'd share it with you

(h/t: 'Political Cortex')
One other thing of interest to environmentalists: the 2008 Ashden Awards for Sustainable Energy will be presented in June 2008 in London
World's Leading Green Energy Awards Calls for 2008 Entries – Closing date for entries 13 November 2007

The Ashden Awards for Sustainable Energy are seeking entries from inspirational and innovative local sustainable energy projects from Asia, Africa and Latin America to compete for a share of £160,000 in prize money.

Former US President Al Gore, who presented the prizes in 2007, commented: "No-one can attend an event like the Ashden Awards and fail to be inspired. What impresses me most about these projects is they truly are becoming the change that's needed in the world. These awards tell us how to illuminate the path to a sustainable future together. I hope that we can make it quickly." (Watch a video of Al Gore's speech at the 2007 Awards ceremony)

For further information and for a downloadable application form (available from the end of September 2007) please visit www.ashdenawards.org or contact: Jane Howarth tel. + 44 20 7410 7023 email: info (at) ashdenawards (dot) org
You can see videos of the 2007 winning projects here and read more about the 2007 winners here.
The Tennessee Guerilla Women are urging everyone to write to Al Gore and highlight a video made by DKos member Calvin Sloan
Dear Al Gore, It is your moral obligation to run for the presidency

"I just can't take it anymore. I am sick and tired of waking up indebted to imperial occupation, to rising Co2 emmisions and environmental degradation, to CIA secret prisons, Guantanamo Bay and torture policy, to a failed healthcare system, to gratuitous and increasing income discrepancies that leave the poor helpless and the rich richer, to an entrenched military industrial congressional complex, to a dysfunctional voting system, to soaring deficits that will burden future generations, like the one that I am a member of, and to a society addicted to oil, economically and culturally – a society completely unaware of the recessionary implications of a global production peak."

Send your pleas to:
The Office of the Honorable Al Gore
2100 West End Avenue
Suite 620
Nashville, Tennessee 37203
For now, you are all caught up on 'Gore News.'
Loading ...