On the Third Friday of every month, starting this Friday, Take Action! Iraq Moratorium.org
The Iraq Moratorium will be an escalating monthly series of actions demanding an end to the war. Starting on Friday, September 21 and on the third Friday of every month thereafter, we will take the time to show our President and Congress that our troops must be brought home, now!
Sign the pledge, DONATE!!, find an event in your area…..other suggestions
Observe Moratorium Day By Yourself!

You can break with your daily routine and take action to end the war by yourself on Moratorium Day. Here are things some of the folks who signed on plan to do!

Call your Representative and your Senators! Tell their staff what you think. Let them know that you expect them to do everything possible to end the war and bring the troops home! [The Capitol Hill switchboard number is 202-224-3121.]

Write your Representative and your Senators! A handwritten letter has even more impact than a phone call.

Wear a black ribbon or armband!

Hand out ribbons or armbands to others.

Don't buy gas.

Don't shop at all.

Drive 10 MPH under the posted speed limit.

Write a letter to your local newspaper.

Hit your elected officials where it hurts, with a voided campaign contribution check. [edit dead link]

Write "Stop the War" or other slogans on the sidewalk in chalk.

Put a sign on your lawn or in your window

Buy toy soldiers, put tags on them that say "Bring Me Home" and leave them in stores, parks, libraries, laundromats, anywhere people will find them.

Email friends and family and urge them to sign the Iraq Moratorium pledge and to one of these steps, too.
STOP the War * Bring Our Troops Home

(quoted from "suggestions" link above)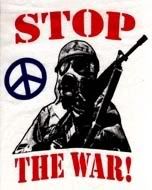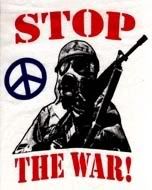 Once you've done your part, treat yourself to some 'Peace Pie'
…but please Don't Feed the Ponies!!
Without further ado, the floor is yours…
~73v, over and out