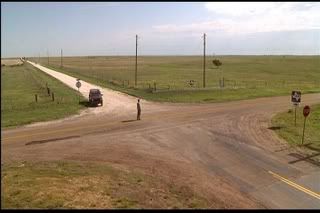 Throughout the history of mankind, there have been many, many turning points, many times we have stood at the crossroads and decided where to go. In fact you could say what we read in our history books is a written record of those crossroads, or at least the record of the results of the decisions made there.
The two that leapt into my mind this morning were the election of Lincoln and Roosevelt, the right men at the right time….with no CLEAR indication of their greatness before they were elected. Where would we and the world be now if different men, lesser men, had been in their place?
And no this is not JUST about Al Gore!
Al is certainly a symbol. And, yikes, Al vs Hil or Rudy sure is as well.
But it is much deeper than that, just as with Lincoln or Roosevelt, it was not JUST about the man….but about the events that transpired while they were in power, and the choices that were made by others in their time. And about the issues that were decided then.
And to coin a phrase….man, do we have issues!
Fundamental ones.
Issues of character, issues that go directly to who we are and who we will become. Issues that are our tests, that determine who we actually are, behind the rhetoric. We have decisions to make in this time that will have MONUMENTAL impacts on the future. Right Here, Right Now.
Decisions on who and what we are. Starting with… are we an Imperial nation that wages aggressive wars and tortures? Are we a society that feels the need to spy on every potential 'terrorist,' in a time when disagreeing with the President gets you on a terrorist watch list? Is it the governments job to protect itself from its citizens? Is our Executive Branch above the law and without accountability to its citizens? Will we become freer, or less free? Is America a democracy or not?
Do we as Americans….do we as HUMANS let genocide occur, do we let 20,00 children a day starve to death, do we allow the brutality of Burma pass without action, do we allow the slave trade to continue to exist…..and do we continue to destroy our nest, our habitat, our children's and grand children's homes, the only ones they have? Will we as a species allow short term greed and profit destroy our future?
Like it or not, acknowledge it or not…we are a planet now, rapidly closing in on seven billion people. (2 billion of them under 21!) We do not have the luxury of pretending we are not. A big part of choosing where we go from this crossroads depends on whether we, America start thinking as global citizens, or continue to believe we are a tiny island of 300 million people in a sea of seven billion.
We can choose to continue to compete against the other six and a half billion people, or choose to cooperate with….us….and build a sane world.
It will take the entire planet working together to defeat Climate Crisis. As is always the case, there is opportunity in this danger. Fate, history, evolution or God…whatever you call 'it,' is calling on us to learn and grow. 'It' has handed us a challenge on nearly every issue and every possible level, how we react to that challenge determines which direction we take at the crossroads…..determines who we are. And who our children and grandchildren and the next seven generations will be.
'It' is calling on us to decide.