Cross Posted from DailyKos

hat-tip to kj & NightProwlKitty!!!
A group of bloggers over (here) at Docudharma have been actively writing about NOLA after Hurricane Katrina and we have decided to do a week-end marathon fund-raiser for the 9th Wards' N.E.N.A. (Neighborhood Empowerment Network Association)
Kossacks/Dharmaniacs came to the rescue when Pretty Bird Woman House needed help.

And for that you are all superstars in my book-no matter who you're voting for!!!

Now, New Orleans Ninth Ward needs our help, and this is more of a reminder than anything else, since the needs are ongoing. Who is NENA, you ask?
The Lower Ninth Ward Neighborhood Empowerment Network Association (NENA) was established in the aftermath of Katrina to play a lead role in rebuilding New Orleans' Lower 9th Ward.

Organized and controlled by residents of the Lower Ninth Ward, NENA addresses not only the immediate recovery needs created by the storm's destruction, but also the institutional neglect and disinvestment that plagued the neighborhood long before Katrina. NENA works with current Lower Ninth Ward residents, displaced residents living in other parts of New Orleans, and the broader diaspora who want to return to the neighborhood.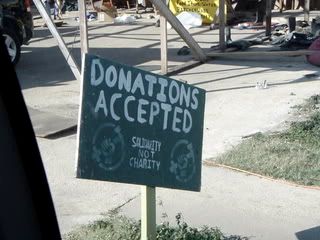 NightProwlKitty wrote a diary entitled "I'm not waiting on the government to give me nothing" in which she quoted something that moved me so deeply….
James Ackerson, 36, is nearly done repairing his home several blocks from the 17th Street Canal. He filed a claim with the Corps but wasn't distressed to hear that the judge dismissed the case.

"It don't mean much to me," he said. "I'm not waiting on the government to give me nothing."
kj wrote a diary entitled, "Eyes on the Prize" after she had called and spoke with NENA's president over the phone….
I called and the woman who answered the phone later told me she was President of Lower Ninth Ward Homeowner's Association. She was handling the phones while everyone else went to lunch. I'm still a little bit overwhelmed by our conversation, so this essay will be brief. I was told that the majority of the people NENA helped were senior citizens. We exchanged emails and plan to stay in touch. I thank everyone who blogs on this issue, it's because of you that I made this simple phone call.
This is what has inspired me to write to all of you asking for help in making donations. This is possibly one of the most worthy causes, since our government has given the fine people of the Gulf Coast so much grief after loosing so much.
NENA's priority needs are:
1.) Building Materials: nails to studs to wire.

2.) Money

3.) Gift Cards from: Walmart, Lowes, Home Depot, Win Dixie Food Stores, Dollar General, Family Dollar
Please, let's do what we can for NENA!

You can send personal checks to:

NENA

PO Box 3920

New Orleans, Louisiana 70177
Or you can donate online through Donate.net & GlobalGiving.com
NENA in the news: from The Nation:

…Though a lot of outside organizations are here, locals lead most of the efforts. I asked Linda Jackson, a member of NENA, how the community felt about the assistance pouring in from around the world, and she replied in her whispery voice, "They're stunned. They never thought the world would reach out the way they did. I'm not going to say that it makes up for [the initial, official Katrina response], but the help that we've been given from throughout the US and the world, it makes us work that much harder. We say: You know what, if these people can come down here and take off of work, drop out of school for a couple weeks, there's no way, there's just no way we can have a negative attitude. These people feel this way, that's something worth fighting for. And that's what we're doing at this point."
Other Very Important NONPROFIT GROUPS you can donate to:
— TheShared Housing of New Orleans program matches people seeking places to live with homeowners who do not want to move to nursing homes and need companions. Call (504) 896-2575 or visit sharedhousingofneworleans.org.
— Global Green USA, 841 Carondelet St., a resource center for environmentally friendly building products, is open Tuesdays, Wednesdays and Saturdays, 10 a.m. to 3 p.m., and Thursdays, noon to 8 p.m.
— Nonprofit Central, a resource collaborative for nonprofit organizations in greater New Orleans, is open at 1824 Oretha Castle Haley Blvd. Services include use of office space and equipment, office support and more. Most services are free. E-mail nonprofitcentral@yahoo.com or call (504) 491-7190.
— The Louisiana Association of Nonprofit Organizations keeps a directory of its 850 member charities. Visit www.lano.org or call (225) 343-5266.
— The governor's Louisiana Disaster Recovery Foundation supports long-term family recovery and provides assistance to citizens in need through a network of Louisiana charities and nonprofit agencies. Call (877) 435-7521 or visit www.louisianahelp.org
— Family Resources of New Orleans, 817 N. Claiborne Ave., provides a community housing resource center, including pre- and post-purchase counseling, foreclosure prevention, credit rehabilitation and first-time homebuyer training. Call (504) 822-8520 or visit www.familyresourcesofno.org
— Modest Needs provides grants of up to $1,000 to help people meet unexpected and potentially catastrophic expenses. Visit www.modestneeds.org
— Operation HOPE provides free financial counseling and services by telephone regarding banking, credit, debt, insurance, budgets and other issues. Call (888) 388-HOPE or visit www.operationhope.org
— Good Will Institute Hospice, 620 Oak Harbor Blvd., Suite 201B, Slidell, is the only freestanding nonprofit hospice in St. Tammany Parish. It provides adult hospice and pediatric palliative care services to all terminally ill persons. Referrals can be made by calling (985) 781-4730.
So there you have the first diary of a marathon week-end fund-raiser.