( – promoted by buhdydharma )
I got out my crystal ball this morning to take a look into the future.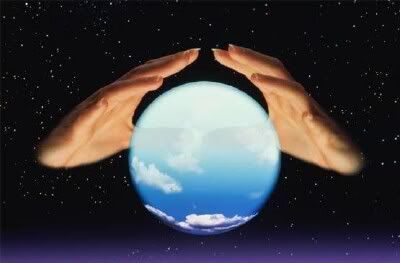 I'm particularly interested today in how things will look after January 2009. I really didn't need the crystal ball to figure out where we'll be if John McCain is elected…pretty much same old slide into oblivion. Nothing new there, move along.
What really interests me is to think about how things will look if we have a Democratic president (right now signs look good for Obama, but who knows?) and a Democratic Congress. For some in the blogosphere, this would spell n-i-r-v-a-n-a. But I think most of us here are pretty sure that will not be the case. The analogy for me is that we might have accomplished triage, but the patient still needs major surgery. Given the stage of the wounds both we in this country and the world are experiencing now, triage is necessary but insufficient for healing.
What concerns me is that I think this country needs a major structural change at almost every level. In far too many ways, the Presidency and Congress are just window dressing to make us believe we live in a democracy when the reality is that no matter who gets elected, The King Stay The King. As OPOL pointed out so eloquently a couple of months ago in Dispatches From the Land of Lying Bastards:
We're up against something even more evil and insidious than the Bush administration. We're up against the Military Industrial Congressional Media Complex, the outfit that pulls Bushco's chain, and it's a much more serious matter than the freak show they've turned our politics into. It's not a joke, it's not a conspiracy theory, and it's not a crackpot proposition. It's the gut-wrenching truth of our present circumstances.
I was intrigued this week by Buhdy's essay in which he (snarkily) endorsed John McCain. While I think the election of McCain would be a disaster, I have also wondered how the election of a Democrat might affect this feeling of crisis that we've all been living with for the last 8 years. Would it dampen the urgency for a good hard look at those structural changes that need to happen?
There are two things that I think are likely to result from the election of a Democratic President and Congress that concern me: apathy and division. The crimes of Bushco have ignited our passions and unified us in our outrage. Staying engaged and united will become more difficult once that is gone.
But I believe those of us at Docudharma have a head start on all that. Most of us have recognized the limits of elections as a way to make the kinds of changes that are necessary and we've been working on getting to the underlying issues for awhile now. My hope is that after the triage is completed, others will join us in that process.
Oh, and one other forecast from my crystal ball…its finally going to be spring up here in the tundra. After 8 inches of snow on Monday, we've got sunshine and 50's today. Guess I didn't really need my crystal ball for that one. YIPEE!!!