Welcome to the Armageddon Edition.
To shamelessly steal one of Gottsy's favorite images, (and then defile it,) this is the Episode in which we discuss the many ways: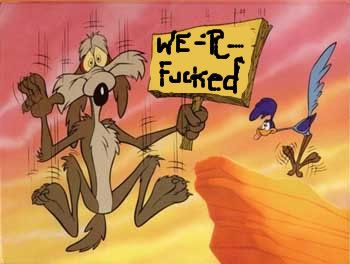 Join Gottlieb, Ed Encho and I as we cheerfully discuss the many faces of the coming Armageddon.
Fascism is on the March, we have troops taking over Iowa towns, soldiers on active duty in country, military training its F.N.G. grunts to be used on US citizens and a planned takeover for "cyber security" our internet.
Habaes corpus, Posse Comitatus, the Constitution, all slain by the Police State coming to a town near you!!!!
The Pentagon investigating the Pentagon says Gitmo is A-Ok!!! Feel safer yet?
Which Global trigger will start WW3?
Hill growling at Israel, Israel wiping out all the Palestinians, both of us saber rattling at Iran?
Pakistan, Afghanistan, where's Bin Laden and why did he kill Kenny?
For an even more enjoyable "twelve gauge enema" we will be discussing the Economic Armageddon to come, replete with ball-hanging a few bankers!!!!
Come one, come all.
Who says the End Times can't be rantilicious fun?!?!?!
The call in number is 646-929-1264 USE IT!
Click the shiny button at 6 to live stream the show.
The live chat link will be active after 5:45.