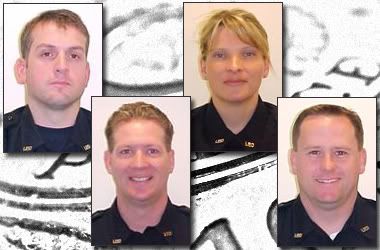 The South Puget Sound area is reeling from shock, in the aftermath of an apparent ambush at a Lakewood/Parkland area coffee shop. At approximately 8:15 A.M. this morning, a lone gunman (although there is some suspicion that a second person may have been involved) entered the premises, and opened fire on four Lakewood police officers as they were completing paperwork on their laptop computers, killing them all. Neither of the two baristas nor any of the customers in the shop were physically harmed (except for the physiological impact of witnessing such a horrific event). Updated details, as the story unfolds, can be found here. If you wish to check out other nearby news sources, you can access the websites from area newspapers such as The Olympian (Olympia, WA), The Morning News Tribune (Tacoma), The Seattle Post-Intelligencer (Seattle), The Seattle Times (Seattle), and Seattle area television stations, such as KOMO, KING and KIRO.
Before continuing further, I want to express my heartfelt condolences to the families and friends of the slain officers, as well as the greater law enforcement community in the area, who must surely be overcome with shock. The Lakewood Police Department reportedly numbered 102 officers prior to 8:15 A.M. this morning, so without a doubt, the four were well known to all of their fellow officers. To the extent that such is possible, it is my hope that they may somehow find some measure of comfort and strength.
This story will likely occupy the nation's headlines for the next few days, but in our ADHD culture, even the most sensational news stories seem to have a very brief shelf life. When is the last time you saw a feature article about the Fort Hood shootings, which occurred on November 5, 2009, a mere 24 days ago?
During my more than three-decade career in the mental health field, I have worked with quite a few individuals who have committed murder, and who, according to the committing court, were either unable to appreciate the nature of their actions at the time of the offense, and/or were unable to meaningfully participate in their own defense due to incompetency to stand trial.
Some of my preliminary thoughts about this horrific event are no doubt affected by my own emotional reaction at present and some may seem to be purely common sense, however, perhaps the best lesson I've learned about predicting human behavior is that it is a very inexact science (or in some sense, perhaps an art as well). In many cases, it seems that past behavior is the best predictor of future behavior, although many, many exceptions exist.
Here are some of my initial thoughts about the suspect, which may be proven completely mistaken as further details unfold. The suspect was most likely feeling desperate, but was certainly capable of thinking clearly enough to maintain a laser-like focus in what, for most people, would be a high adrenaline event. The suspect, even if there were two of them, undoubtedly had the element of surprise on their side, however, there would presumably be the distinct possibility that they could have perished in the process. The suspect was undoubtedly prepared to die.
If the suspect's contention had been with one officer, they could have targeted that person in another setting, when there would have been far less risk of being shot by a fellow officer. It seems likely that the suspect was attempting to make a profound statement. The fact that only law enforcement officers were targeted and no one else on the scene would seem consistent with this idea.
My best guess is that the suspect was trained and knew exactly how to achieve his desired result. Past training as member of the armed forces and/or law enforcement would seem likely. This person had to have the capability of firing off several shots in rapid succession, with deadly accuracy. Perhaps the suspect was a police officer gone bad who had been kicked off the force, an aspiring job applicant in dire economic circumstances who had been denied employment by a law enforcement agency, or maybe a veteran who had seen duty in Iraq and Afghanistan, possibly multiple deployments, perhaps facing yet another trip to one of those two locations.
The coffee shop was located within a stone's throw of the northeastern boundary of McChord Air Force Base. Fort Lewis, one of the larger U. S. Army installations in the country, is also located nearby.
If and when a suspect is caught, will we hear about mental illness as a possible defense, along with evaluations for competency to stand trial and/or a possible insanity plea? If so, we may well hear mention of psychiatric diagnoses such as schizophrenia, paranoid type and/or post traumatic stress disorder.
Of course, those debating the meaning of the Second Amendment will surely be out in full force, with the usual players calling for increased gun control versus those claiming that we will never be safe until all of us are armed and trained to use our weapons. If this were the case, when Cheney addressed the NRA convention some time ago, they would have never required the attendees to surrender their weapons at the door. Rather, they would have required that everyone entering the area show proof that they were carrying a loaded weapon, ready to fire and bring down any potential assassin who may have managed to slip through security. Yet, the NRA would try to convince us that we would be infinitely safer if we were all armed.
In terms of the incident at the coffee shop, if four police officers can be brought down by what still appears to be a lone gunman or if even a second gunman were involved, there was still a ratio of at least two police officers for each suspect. Had you been present in the coffee shop with your family and had your own loaded weapon tucked inside your suit jacket (assuming you have a concealed weapon permit, although there are those who don't bother with such formalities), what would you have done? Could you have shot quicker and straighter than the second officer, third officer, or fourth officer that was killed? Is your weapon the type that if your first shot had not brought down the suspect (perhaps he was wearing a bullet-proof vest), that you could have fired off a second shot in time? Quite likely, if you didn't, your family would be grieving your loss as we speak.
If you were to hear rumors that older children in your child's school are carrying weapons, what would be your suggested solution(s)? Would you purchase a weapon for your child, provide them with training and hope that they might be able to use unerring judgment to protect themselves if the worst were to happen? If other parents were to take this approach, where would this stop? Maybe the line could be drawn so that sixth graders could carry weapons, but fifth graders (or younger) could not, but this would place younger children at risk. So where would this end?
Would more police officers have made a difference? If there had been a fifth or sixth officer present in the coffee shop, would this situation have turned out differently? Maybe, but then again, maybe not.
These tragic deaths could potentially result in extensive and constructive discussion on a national level to consider new solutions to reduce the likelihood that such a tragedy will occur again in the future. To the extent that past events are predictive, numerous articles on both sides of the Second Amendment issue will be dusted off and then fade as the next news story du jour takes center stage. Be assured that doing more of the same (aka gridlock with regard to gun issues) will produce an all too predictable and extremely unfortunate result.
Although the repercussions in the South Puget Sound area will likely persist for quite some time, on the national level, we will most assuredly witness complete silence about this terrifying event before those of us who still believe in Santa Claus hang up our stockings during the evening of December 24th.
We are again presented with yet another opportunity to effect constructive change. Let's hope for our sake and that of our country that this most tragic event does not represent still another missed opportunity to create a nation that is safer for us all.