(11AM EST – promoted by Nightprowlkitty)
(Photo by: Ahmad Al-Rubaye)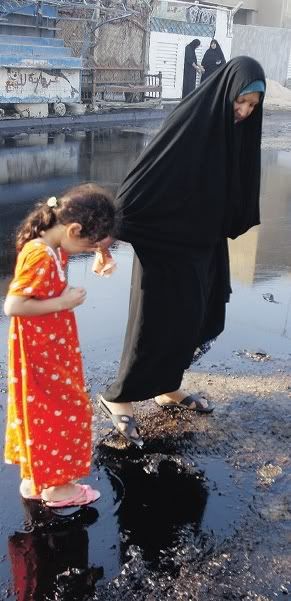 An Iraqi girl gingerly makes her way through oil spilled on a Baghdad street on Wednesday.
Also posted at DailyKos. (Link)
I was very moved by the outstanding diary by my good friend noweasels (Remembrance (3-19-03 – 8-19-10)), which paid tribute to US troops and their families. If you haven't read it yet, I highly recommend it. It was both moving and solemn to see the faces and pictures of the Americans depicted in that diary, many of whom died in the Iraq War.
It's in that spirit, that I want to present another diary – one that remembers some of the Iraqi victims of the war.
We don't often learn the names of individuals from Iraq – for one thing it's difficult to find out information on them. So while there will not be as many faces and names in this diary as in noweasels's, I have put together a few images and stories from the recent news and from some of my past diaries.
(Mini-Advisory: 1 or 2 are stark, but not graphic)
:: ::


Unnamed Little Girl – September 29, 2006
An Iraqi girl carries her sister's shoes from a car bomb site Thursday in Baghdad. It was unclear if her sister was injured. (AP Photo)
:: ::



Ali Hamed – Oct 22, 2007
This is a collage excerpted from a diary of mine called Jesus of Mesopotamia. If you're interested in the context of the title and collage, check out the diary.j
:: ::
Aklas and Gafor Farhood
Aklas Farhood, whose husband was killed on Feb. 3, 2007,in a Baghdad bombing, stands with her son Gafor, 12, in front of the tiny room that they share with Gafor's older brother.

(Michael Abrams/Stars and Stripes)
:: ::
Anaam Jassim and Family in Baquba – Sept. 2006
(I realize some may find this picture/story stark and I apologize for that in advance.)

Thursday28/9/2006September, 2006, 10:46 AM Doha Time

BAQUBA, Iraq: (Gulf Times) Right: Women cry after seeing the bodies of their relatives who were killed in … (an) air strike yesterday


* * *

(Reuters) …"I was inside preparing for Ramadan morning meal. I heard explosions and shooting and I ran out," Anaam Jassim … told Reuters
:: ::
Final Words: A local's view – Lubna, 24, Baghdad
For me as an ordinary Baghdadi citizen the importance of the withdrawal of the US combat troops from my Iraq is largely symbolic, as it marks the beginning of the end of the American occupation. It's really hard to care about the troops leaving though because life in Baghdad is barely tolerable. Basic things that make for an acceptable quality of life are still missing. There's a severe shortage of electricity and water. There's massive unemployment and corruption.

…I don't think it will make much difference whether there is a US presence here or not. Ordinary Iraqis have died, people have lost loved ones. I have lost 15 people in total including relatives, friends, neighbours and colleagues.

Things are better now than in 2006 and 2007 but overall the security situation is volatile. … I don't feel completely safe, but I do feel better than a few years ago.

I've recently qualified as a doctor. One day I hope to be a paediatrician. In hospitals though, there is a lack of medical supplies. I hope it will get better though. I am optimistic.

(BBC)
:: ::
My sincere best thoughts and wishes go out to all who have suffered as a result of the Iraq War. There has been much sacrifice and loss – on all sides. Finally, as I often post in the IGTNT diaries:
"Here's to peace, and all who work and pray for peace."