It's Spring! Well, not quite and from the weather forecast here in the Northeast, not for few more weeks. Thoughts are starting to turn to gardening and seed catalogs, spring cleaning and, oh yes, Mardi Gras, St. Patrick's Day and Easter. I get the urge to change things, do something innovative, different. Like redecorating, new curtains, a fresh coat of paint, nothing drastic, just refreshing. OK. Have I buttered you up?
A friend sent me a picture the other day reminding me that it is the Chinese Year of the Rabbit and the campaign to Save the Tiger.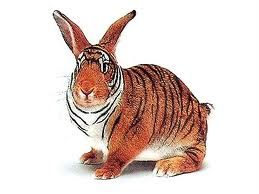 I got laughing at that picture and thought it would be kind of cute at the bottom of the page instead of the tiger that's there now. Then I did some more thinking, (I get into trouble when I think too much), that image could be changed every now and then, perhaps with images, like the "eyes" in the banner that were created by OPOL. Since this is a community and your input is important here, I decided to ask your opinion and if anyone had any other ideas about changes they would like to see or resurrected.
What's your choice for bottom page home link image?
Loading ...