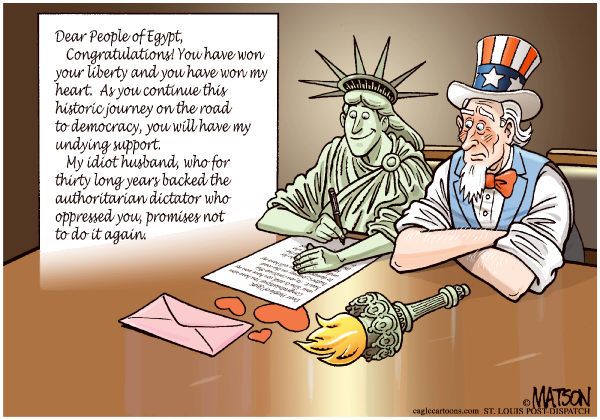 Letter to the People of Egypt by RJ Matson, St. Louis Post Dispatch, Buy this cartoon
1. Title – Don't Go Breaking My Heart

2. Image Shack – Egypt/GOP

3. Title – George W. Bush's Excellent Adventure in Switzerland.
—————–
1. Egypt.

1a. Egypt – by Middle East Cartoonists.

2. Boehner

3. Bachmann

4. GOP/HCR

5. Economy

6. Obama – Chamber of Commerce.

7. Guns

8. Palin

9. HuffPo.

10. Arizona.

11. Sports.

12. Valentine's Day.
1. Oil

2. Bush.

3. Facebook.

4. Debt Commission

6. Super Bowl.

7. Smoking.

8. Congressman Lee – GOP.

9. Ronald Reagan.
——————-
MUST INCLUDE
1. Morning Vid: How an Editorial Cartoon Is Made — by Trix.

http://www.theatlanticwire.com…
2. Must Include Tom Tomorrow – ImageShack and Cartoon by Sandy on Signal.
——————-
PLEASE READ THIS

Link to last week's diary.
:: ::
THE WEEK IN EDITORIAL CARTOONS

This weekly diary takes a look at the past week's important news stories from the perspective of our leading editorial cartoonists (including a few foreign ones) with analysis and commentary added in by me.

When evaluating a cartoon, ask yourself these questions:

1. Does a cartoon add to my existing knowledge base and help crystallize my thinking about the issue depicted?

2. Does the cartoonist have any obvious biases that distort reality?

3. Is the cartoonist reflecting prevailing public opinion or trying to shape it?

The answers will help determine the effectiveness of the cartoonist's message.
:: ::
:: ::
Public Uncertain About Effect of Egypt Protests on U.S.

http://pewresearch.org/pubs/18…
Historically, Public Has Given Low Priority to Promoting Democracy Overseas

http://pewresearch.org/pubs/18…
Uprisings: From Tunis to Cairo

February 24, 2011 by William Pfaff

http://www.nybooks.com/article…
Secrets of a Woman, Editorial Cartoonist, Revealed

http://blog.cagle.com/2011/02/…
Video and Cartoons: Interview with Iranian Cartoonist Kianoush Ramezani

http://blog.cagle.com/2011/02/…
Denial on de Nile

http://blog.cagle.com/2011/02/…
Title: Continuity or Change?
INTRODUCTION

:: ::

:: ::

:: ::
1. Cartoons of the Week








:: ::
2. Egypt

:: ::
3. Issue #1

:: ::
4. Issue #2

:: ::
5. Issue #3

:: ::
6. Issue #4

:: ::
7. Issue #5

:: ::
8. Issue #6

:: ::
9. Sports

:: ::
10. Final Thoughts

A Note About the Diary Poll