(9 am. – promoted by ek hornbeck)
Cross posted from The Stars Hollow Gazette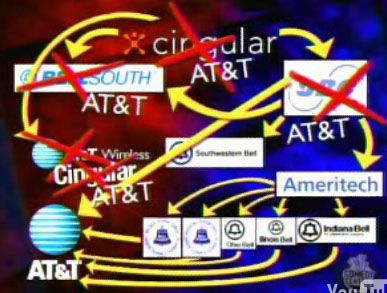 The big business news that hit the "airways" yesterday was the announcement that AT&T's plan to gobble up T-Mobile for a mere $39 billion which would create the largest wireless carrier in the US and leave just three major cellular companies in the country: AT&T, Verizon and the much smaller Sprint Nextel. Hold on, was I dreaming, or did we taxpayers spent a fortune of are hard earned tax dollars to break-up AT&T? Are those ten years of litigation and the consequent pain in the royal tuchas for consumers that it created a mere practical joke?
The deal still must pass muster with the from both the Justice Department and the Federal Communications Commission. as has been pointed out in the NYT:
Unlike the merger of Comcast and NBC Universal, which consolidated a transmission company and a content provider, the proposed AT&T and T-Mobile deal is a "horizontal merger" that would combine two companies that had been direct competitors.

As part of their assessment, antitrust lawyers must determine whether the deal might undermine efforts to encourage broadband service competition between wireless and landline providers. AT&T and Verizon both control a major segment of the landline market, so by allowing them to dominate wireless services as well, the merger could effectively hurt competition for broadband delivery options.
All in all, the consumer is the one who bears the brunt of these mega-mergers with increased rates and diminished service. Remember AT&T's penchant for hidden charges?
How about jobs? What happens to all those T-Mobile employees? The newly merged company would save $3 billion a year with the expected closing of hundreds of retail outlets in areas where they overlap, as well as the elimination of overlapping back office, technical and call center staff.
Everything old is new again.