1. Image Shack – Luckovich and others.

2. 20 Cartoons in THIS ALBUM

http://s190.photobucket.com/al…

3. Matt Bors Announcement – Daily Kos Comics

http://mattbors.com/blog/2011/…
———
THE WEEK IN EDITORIAL CARTOONS

This weekly diary takes a look at the past week's important news stories from the perspective of our leading editorial cartoonists (including a few foreign ones) with analysis and commentary added in by me.

When evaluating a cartoon, ask yourself these questions:

1. Does a cartoon add to my existing knowledge base and help crystallize my thinking about the issue depicted?

2. Does the cartoonist have any obvious biases that distort reality?

3. Is the cartoonist reflecting prevailing public opinion or trying to shape it?

The answers will help determine the effectiveness of the cartoonist's message.
:: ::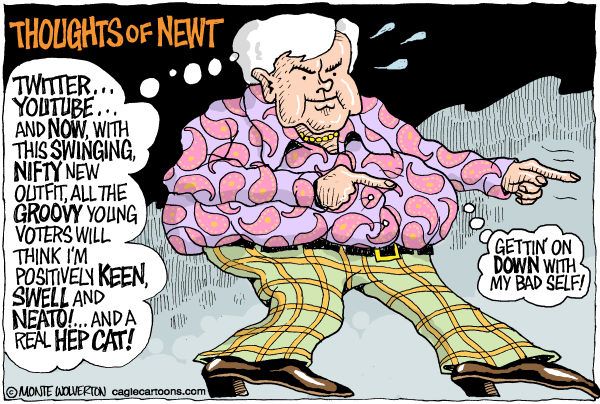 Groovy Thoughts of Newt by Monte Wolverton, Cagle Cartoons, Buy this cartoon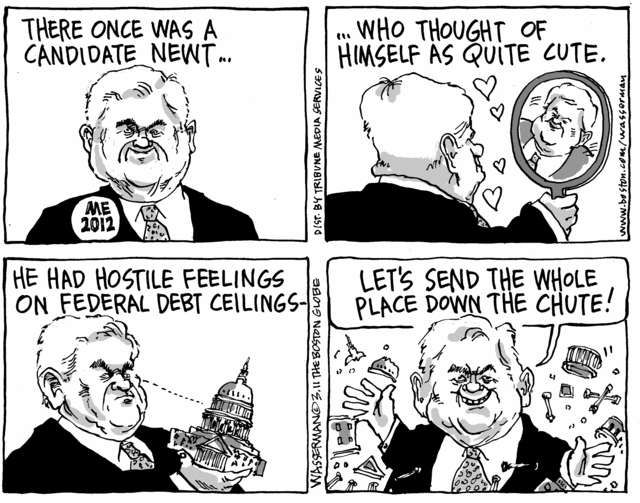 Dan Wasserman, Comics.com (Boston Globe)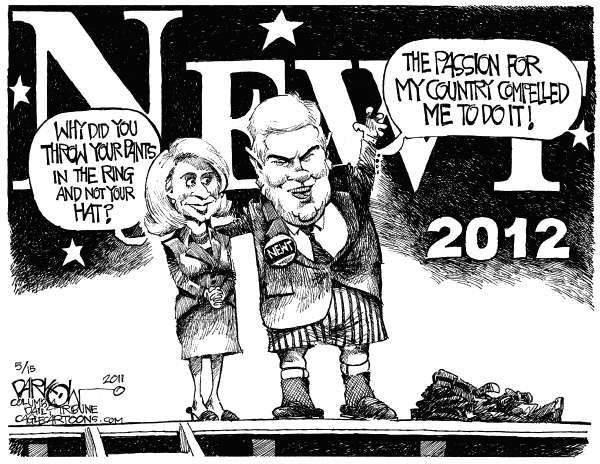 John Darkow, Columbia Daily Tribune, Buy this cartoon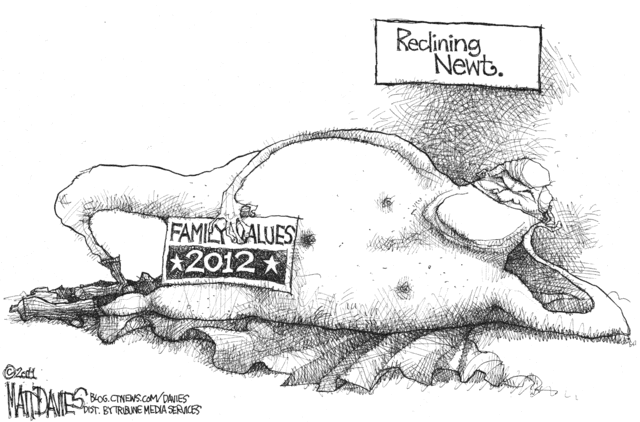 Ladies Man by Matt Davies, Comics.com, see reader comments in Connecticut News
:: ::
INTRODUCTION
:: ::
1. Cartoons of the Week
5 Themes
Oil
Abortion
Immigration
Economy

A Rare Display of Honesty

Don Wright, Comics.com (Tribune Media Services)
Education
SS



Mike Luckovich, Atlanta Journal-Constitution, Buy this cartoon
Facebook
Redistricting
DADT
Japan
Oil Addiction
Global Warming
Weather
Giffords
:: ::
1. Cartoons of the Week.

2. Abortion.

3. SS.

3. Sports.

4. Oil.
2. Gingrich #1


:: ::
3. Gingrich #2


:: ::
4. Mittens


:: ::
5. Other GOP Hopefuls


Steve Sack, Minneapolis Star-Tribune, Buy this cartoon



Vic Harville, Stephens Media Group (Little Rock, AR), Buy this cartoon



John Sherffius, Boulder Daily Camera, Buy this cartoon


Steve Sack, Minneapolis Star-Tribune, Buy this cartoon



Mike Huckabee by Bob Englehart, Hartford Courant, Buy this cartoon
:: ::
6. Oil Companies

:: ::
7. Weather
1. Big Oil – Cagle

Big Oil Cartoons

http://blog.cagle.com/2011/05/…

:: ::
8. IMF
Why Strauss-Kahn case should give us hope

http://www.csmonitor.com/Comme…

:: ::
9. He's Not Coming Back

:: ::
11. RIP Bill Gallo
1. Enos.

2. Litton.

3. Harmon Killebrew – Sack.
:: ::
Bill Gallo 1922-2011 – Comments.

http://www.drewlitton.com/cate…

:: ::
10. Final Thoughts

:: ::
A Note About the Diary Poll

—————
Wanna Be a Pootie Lobbyist?
Only requirement: have a million dollar smile. Washington, D.C. beckons you.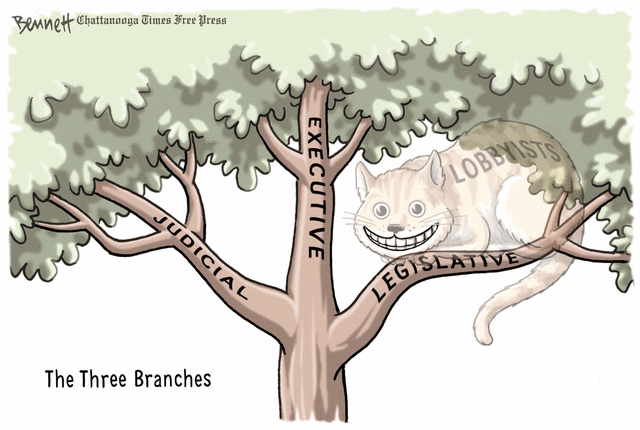 Clay Bennett, Comics.com, see the large number of reader comments in the Chattanooga Times Free Press
————–
A Winning 2012 GOP Slogan
Earlier today, the brains at the Republican National Committee announced a new slogan for the 2012 Elections. Spread the word. We love political suicides.
Kill Granny, End Medicare, Vote Republican in 2012.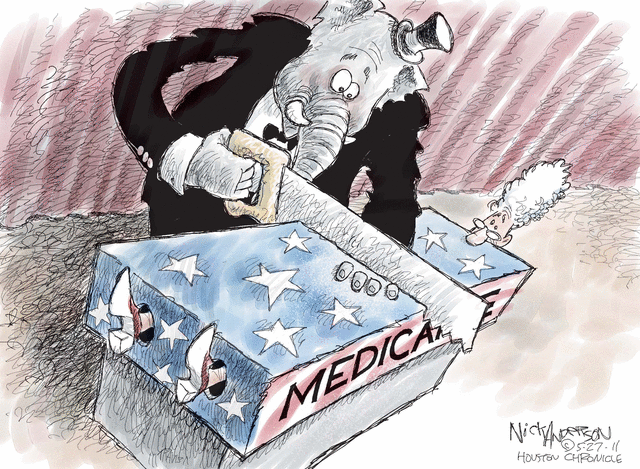 Cuts by Nick Anderson, Comics.com, see reader comments in the

Houston Chronicle
———————-
Fashion Statement