(11 am. – promoted by ek hornbeck)
She was sitting on the street somewhere in Slatina, Romania. She was sitting in the rain and cold, with her feet cut away. And yet she lived, this sweet girl with a big desire to survive.
She could use some more help. The wonderful Prietenii Nostri is a shelter and haven for some 400 to 500 dogs. This dog was lucky, as she was brought to Prietenii Nostri's founder Gratiela Ristea, who does what she can to feed and house and provide medical care for these creatures, our fellow earthlings. I found my dog, Bobby, there almost two years and she is my sweet sweet girl.
Bobby had her tail cut off and her teeth kicked in. But this poor one, well… she's had two surgeries already. And Gratiela says her spine is not broken, which is very good news.
Perhaps there are some of you who could make a donation to help cover her care … or even bigger: offer her a home… this would be wonderful.
cross posted at dKos
Last Christmas, I wrote about the shelter's cold dogs and that resulted in donations of over 600 euros, which went for insulated dog houses for a few of the older dogs (Gratiela says the frigid winters are hardest on the old ones), to cover old medical bills, food, and bread. Yeah. Bread. It helps get them through the winter.
Here's my girl Bobby in our garden: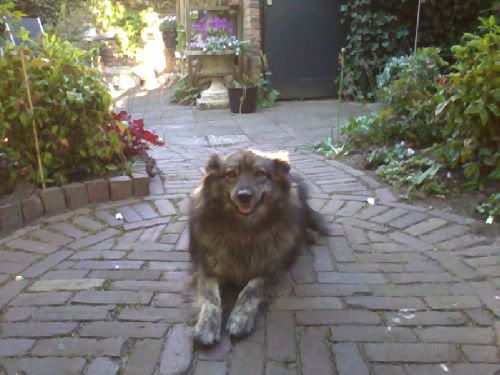 There are many reasons to help dogs in Romania… almost 3 million reasons. These street dogs are targeted for slaughter and some of the stories are unbearable.
Sometimes we are moved to write and struggle for words. I have so few words for this… I don't know how to make it more compelling than to just share the story of this dog, this creature, this brave earthling.
Please… help if you can. Thank you.

BANK TRANSFER & PAYPAY LINK

ASOCIATIA PENTRU PROTECTIA ANIMALELOR "PRIETENII NOSTRI "

TUDOR VLADIMIRESCU STREET, NUMBER 169, SLATINA CITY

BANCA COMERCIALA ROMANA – Slatina

COD BIC: RNCBROBU

CONT IBAN RO29RNCB0200042737330002

COD SWIFT:RNCBROBUOT0