As reported earlier this month New Hampshire voters chose the first openly transgender state legislator, Stacy Laughton of Nashua, who represents Ward 4 . That didn't sit well with some apparently so the Laconia, NH Daily Sun dug into her past and discovered that prior to her transition, she served 4 and a half months of 2008 in jail on a felony conviction of conspiracy to commit credit card fraud.
She was also convicted of tire slashing and at one point reportedly admitted she faked illness to gain an ambulance ride from Weirs Beach back to the heart of Laconia.
Neither of those latter incidents were felonies of course.
According to NH State law convicted felons can vote and run for public office as long as they are not incarcerated and have successfully completed any court-ordered probation.
The Daily Sun also felt it necessary to add that Laughton was unemployed and lived in public assistance housing while she was living in Laconia to be near her parents. While living in Laconia she ran for Laconia City Council in 2005, Laconia School Board in 2006, the City Council again in 2009, and the NH House in 2010.
On July 29, 2008 she pleaded gulity to a felony count of conspiracy to commit fraudulent use of a credit card and to charges of conspiracy to commit identity theft and falsifying physical evidence. She was sentenced to 7.5 to 15 years for the credit card scheme and 3.5 to 7 years for falsifying physical evidence, with the sentences concurrent and suspended pending 10 years of good behavior. She was instead sentenced to 12 months with 4 months suspended in the Belknap County House of Corrections for fraud. She served 4.5 months before being released on November 21. Her probation ended in November of 2010. She and her wife were also ordered to pay $1991 restitution, of which $1706 is delinquent.
In 2011 both Stacy and her ex-wife Lisa won campaigns to be Ward 4 selectmen.
House Majority Leader Pete Silva (R-Nashua) announced that Laughton's failure to inform Nashua voters of her background before the election was grounds for her resignation.
While I believe in a person's ability to be rehabilitated and become a productive member of the community, I also believe it is a candidate's duty to fully disclose their personal history to allow the voters an opportunity to make an informed decision. Ms. Laughton failed to give the voters of her district that very basic amount of trust and respect.

–Silva
When Laughton ran for Laconia City Council in 2009, she wrote a letter to the editor wherein she said:
I have made mistakes in my personal life, but I have paid my debt to society, and I believe that through that it has made me stronger and it should not damage my ability to be a city counselor. And I ask the people of Laconia to ask questions to me so that they may know both sides of the story due to the fact that the press likes to tell only one side of what goes on.
After conferring with Democratic Party officials and an attorney, Laughton decided to resign on Tuesday.
I'm not going to step away from the public eye. I'm going to stay involved and continue my activism and the advocacy work I've done. I'm very bold and not afraid to put myself out there, despite my past. I won't stop serving my community in whatever capacity I can.

–Laughton
She said she would be drafting a letter to the Secretary of State's office to formally resign with assistance from Democratic party official Gene Martin.
I respect Stacie's decision not to be seated in the New Hampshire House and am confident that the new Democratic House majority will stay focused on the work they were sent there by voters to do: move New Hampshire and our economy forward.

–New Hampshire Democratic Party Chairman Ray Buckley
On Wednesday Laughton reconsidered that resignation in spite of pressure from more quarters.
I'm reconsidering, and I'm seeking the advice of professionals and through social media.

–Laughton
Governor-elect Maggie Hassan and Majority Leader Terie Norelli should put a swift end to this story by publicly calling for Laughton's resignation immediately.

–Jennifer Horn, R-Nashua, who is seeking the chairmanship of the NH GOP
Laughton said she would base her decision on the finding of the NH AG's office, which is reviewing the relevant state law. Then she said she would announce her decision on Thursday on AccessNashua, a local cable television program hosted by State Representative Ken Gidge (D-Nashua, Ward 6).
And she did make that decision, deciding at last to resign her position:
I regret to inform you that I am unable to fill the State Representative seat for Hillsborough County District 31 to which I was recently elected.

–Stacie Laughton
& & &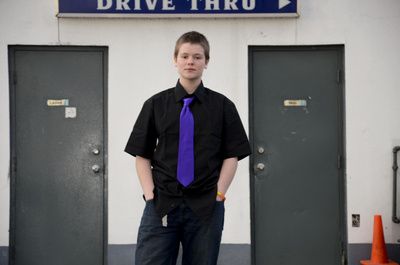 In another update, to a story from a couple of weeks ago, transgender student James Spencer will now be permitted to use the men's washroom at his school in Clarington, Ontario, near Toronto.
I thought, 'They're figuring it out, it's temporary. But as time went on they're portraying the message that transgender people are wrong and they need to be segregated. And I don't sit well with that.
Spencer went from class to class in his school to tell his story and got students to sign a petition to allow him to use his chosen washroom. The administration relented.