Welcome to The Breakfast Club! We're a disorganized group of rebel lefties who hang out and chat if and when we're not too hungover we've been bailed out we're not too exhausted from last night's (CENSORED) the caffeine kicks in. Join us every weekday morning at 9am (ET) and weekend morning at 10:00am (ET) (or whenever we get around to it) to talk about current news and our boring lives and to make fun of LaEscapee! If we are ever running late, it's PhilJD's fault.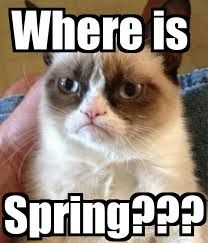 This Day in History
Julius Caesar assassinated in Rome; Johnson urges passage of Voting Rights Act; Worldcom CEO Bernard Ebbers convicted of fraud; Elizabeth Taylor marries Richard Burton; "My Fair Lady" debuts on Broadway.
Breakfast Tunes
Something to Think about over
Coffee

Prozac
Fight for the things that you care about, but do it in a way that will lead others to join you.
Breakfast News
EPA delays chemical storage rule amid terrorism fear
Congress sends Trump drug test measure for unemployed
Pirates demand ransom for oil tanker captured off coast of Somalia
Canadian church group denied entry to US over fears they would 'steal' jobs
François Fillon under formal investigation for 'fake jobs offences'
Prosecutors: Florida men smuggled Cuban players to get rich
2nd helping: American brings back free meals on some flights
Norway's whaling industry targets pregnant whales
Why is China banning Winnie The Pooh?
Fossils from 1.6 billion years ago may be oldest-known plants
Breakfast Blogs
This Was Supposed to Be Christmas in March for Paul Ryan Charles Pierce, Esquire Politics
Are Covert Ops Spinning Free from Presidential Findings (Again)? emptywheel aka Marcy Wheeler, emptywheel
Nobody Could Have Predicted! That (T)Rumpcare Would Result in Many More Uninsured! Echidne, at her blog
The "Leni Reifenstahl of the Tea Party" is lying. Surprised? digby aka Heather Digby Parton, Hullabaloo
Putin With a Whip driftglass, at his blog
The Further Adventures Of Paul Ryan, International Man of Seriousity Scott Lemieux, Lawyers, Guns and Money
YES, I THINK TRUMP LEAKED HIS OWN TAX RETURN Steve M., No More Mister Nice Blog
Phone Searches Now Default Mode At The Border; More Searches Last Month Than In All Of 2015 Tim Cushing, Techdirt