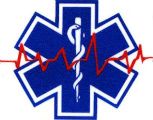 Welcome to the Stars Hollow Gazette's Health and Fitness News weekly diary. It will publish on Saturday afternoon and be open for discussion about health related issues including diet, exercise, health and health care issues, as well as, tips on what you can do when there is a medical emergency. Also an opportunity to share and exchange your favorite healthy recipes.
Questions are encouraged and I will answer to the best of my ability. If I can't, I will try to steer you in the right direction. Naturally, I cannot give individual medical advice for personal health issues. I can give you information about medical conditions and the current treatments available.
You can now find past Health and Fitness News diaries here.
Follow us on Twitter @StarsHollowGzt
I was fishing out at the eastern end of Long Island the other day, getting in a session before Jose pushed his way north to crash and blow. When I was finished, I drove to Spicy's BBQ in Riverhead for chicken because I like how they fry the birds there, how the skin is fantastically salty and crisp, how it reacts under lashings of the sweet-spicy barbecue sauce they serve on the side, yellow as a city cab, mustard-pungent and sticky. You'd think the skin would go soggy, but it doesn't, really, not if you eat fast.

And fried chicken has been on my mind ever since. I'd like to make some this weekend, with cream gravy and mashed potatoes, or with sourdough waffles with a cup of Cheddar cut into the batter and a small pot of honey and red pepper flakes on the side, into which I've melted a few pats of butter. I'd like to eat it with braised greens, or pickleback slaw, with macaroni and cheese. That would be a really nice dinner to cook.

Sam Sifton, New York Times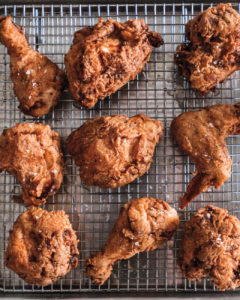 Buttermilk Fried Chicken
Here is a basic yet delicious recipe for buttermilk fried chicken, with a crisp crust and luscious interior.
Classic Mashed Potatoes
Mashed potatoes are very forgiving, and with a good masher, hot potatoes and enough butter and salt, cooks can accommodate religionists of the fluffy style and partisans of the creamy and dense.
Sourdough Pancake or Waffle Batter
If you have a sourdough starter, you will need to feed it to keep it alive. Many recipes call for doing so after discarding a cup or so of the starter you have, so as to maintain its equilibrium and prevent it from growing too large.
Braised Greens
Chicken stock, white wine and red pepper flakes add flavor to this side dish that can be made with whatever hearty green is in season.
Pickleback Slaw
Those artisanal pickles from the farmers' market sure are expensive, so don't throw out the juice in which they're pickled.
Creamy Macaroni and Cheese
This creamy version has one powerful advantage for the cook: it is made with dry pasta, so there's no need for precooking. The pasta cooks in the oven, absorbing the liquid from the dairy products.
Health and Fitness News

Addictive Opioids Common for People on Dialysis
Asthma Drug Tied to Nightmares, Depression
Could Pests, Dust Lower Kids' Odds for Asthma?
Inflammatory Bowel Disease May Raise Cancer Risk in Kids
Sound the Mosquito Alarm, Across the USA
As Men's Weight Rises, Sperm Health May Fall
Fighting HIV on Multiple Fronts Might Lead to Vaccine
Fracture Risk Higher for Seniors With Diabetes
High, Low Levels of Magnesium Linked to Dementia Risk
Prostate Cancer Symptoms Aren't Always Obvious
Will an E-Cigarette Harm Your Heart?
9 of 10 Docs Unprepared to Prescribe Marijuana
Caring for a Sick Pet Can Really Drain You
Doctors Eye the Danger From 'Nerf' Guns
Exercise May Stem Kidney Damage in Lupus Patients
Gun Injuries Add Millions of Dollars to Hospital Costs
Heath Tip: 10 Mistakes People Make in Food Preparation
This Mistake Can Cost Athletes' Lives in Cardiac Arrest