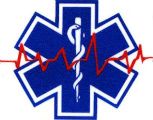 Welcome to the Stars Hollow Gazette's Health and Fitness News weekly diary. It will publish on Saturday afternoon and be open for discussion about health related issues including diet, exercise, health and health care issues, as well as, tips on what you can do when there is a medical emergency. Also an opportunity to share and exchange your favorite healthy recipes.
Questions are encouraged and I will answer to the best of my ability. If I can't, I will try to steer you in the right direction. Naturally, I cannot give individual medical advice for personal health issues. I can give you information about medical conditions and the current treatments available.
You can now find past Health and Fitness News diaries here.
Follow us on Twitter @StarsHollowGzt
What To Cook
Hanukkah begins Sunday night at sundown, along with the lighting of the first candle and spinning dreidels. That makes it time for Latkes served with your choice of apple sauce and sour cream. This is my favorite recipe for Latkes by Rose Levy Beranbaum. No flour, no eggs makes the latkes delicate and lacy. These are best served when they are fresh from the pan, so, we take turns making them all during the meal. It can actually be fun.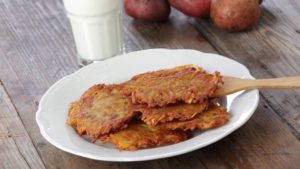 Potato Latkes
4 large Idaho potatoes, about 2 1/4 lbs.
1 large onion, peeled
1/2 teaspoon of salt
1/4 teaspoon fresh ground black pepper
1/4 cup canola oil
In a food processor with a coarse shredding disc or o the large shredding hole of a hand grater, shred the potatoes. Squeeze them well to rid them of as much water as possible and place them in a bowl. I use a cotton dish towel to squeeze the water out. it gets them really dry. Shred the onion and add to the bowl. Add the salt and pepper. Mix well. More water will be exuded and should be squeezed and drained thoroughly.
In a large heavy frying pan (a 12 inch iron pan works best), over medium heat, heat 2 tablespoons until a slight haze appears on the surace of the oil. Drop about 1/4 cup of the mixture into the oil, flattening slightly with the back of a spoon Leave a little pace between the pancakes for ease in turning. They should be about 2 1/2 inches in diameter and will flatten as they cook.
Cook about 7 minutes or until the edges turn golden brown. Flip and cook another 5 to 7 minutes or until the other side is golden brown. If the oil starts smoking or the latkes brown too quickly, reduce the heat and briefly remove the pan from the heat. Remove the latkes and drain on layers of paper towels Continue with remaining mixture adding 2 tablespoons of oil with each batch.
Serve with apple sauce and sour cream.
But what to serve with them and for the rest of the week? After all, Hanukkah lasts for eight days. here are some ideas from Epicurious.com
Mamaleh's Brisket
The point cut is the fattier end of the brisket. It's more tender and especially delicious because of the marbling. Ask for it first.
Hanukkah Chicken
One large potato pancake sliced into wedges is an easy large-format alternative to making individual latkes. Serve them alongside applesauce-braised chicken thighs for a holiday dinner.
Lentil and Chicken Soup with Sweet Potatoes and Escarole
Leftover roast chicken or store-bought rotisserie chicken can be turned into a hearty dinner soup in about half an hour. Fresh dill and lemon add a nice dose of brightness.
Diner-Style French Toast
Diner cooks know three things about French toast: 1. Thick-cut challah is crucial. 2. Cinnamon and vanilla shouldn't be skimped on. 3. Syrup is welcome—but if you do it right, a dusting of powdered sugar is all you really need.
Challah Bread
Why make one challah when you can make three? The result you get when mixing a large batch of dough is actually much better than what you get when making a small batch.
Salty Chocolate Chunk Cookies
Finishing your cookies with a delicate, flaky salt like Maldon brings out the chocolate flavor and tempers the sweetness, creating the ultimate sweet and salty snack.
Health and Fitness News
Global Spike in Measles a 'Serious Concern'
Polio-Like Illness in Kids Often Misdiagnosed?
Stimulating Brain Area May Ease Tough Depression
Asian Longhorned Tick Is Invading United States
Number Of Uninsured Kids in U.S. 'Going Backward'
Pregnant Women Face Risk Despite Federal ER Law
Investigation: Lives Lost Amid ER Violations
Your Rights in the Emergency Room
CDC: Opioids, Suicides Drive Life Expectancy Drop
Unlocking the Mysteries of Hair Growth
Snoring May Be Bigger Threat to Women Than Men
New Amputation Surgery Eliminates 'Phantom' Effect
Chronically Ill, Traumatically Billed: The $123,000 Medicine For MS
Do Youngest in Class Risk False ADHD Diagnosis?
Parkinson's Gene Therapy Wires New Brain Circuits
Two More Valsartan Drugs Make Growing Recall List
Study: Some Women Should Start Mammograms at 30
Some Romaine Safe to Eat Again, But Warnings Remain