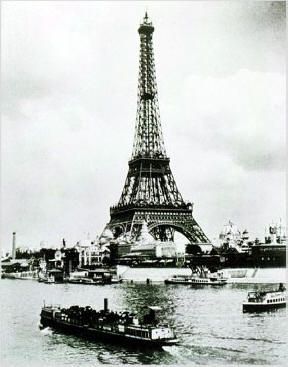 On this day in enter site 1889, The Eiffel Tower is officially opened to the public at the Universal Exposition in Paris. The tower was designed by Gustave Eiffel to commemorate the centennial of the French Revolution. It is the tallest structure in Paris at 1,063 ft. and the most visited paid monument in the world. It is locate in the 7th arrondissement on the Champs de mars next to the Seine.
The tower was not without its controversy, a letter of 300 names, including those of Maupassant, Emile Zola, Charles Garnier (architect of the Opéra Garnier), and Dumas the Younger, protested its construction, calling it an "eye sore". Eiffel had a 20 year permit for the Tower with dismantling schedules for 1909. The Tower reverted to the City of Paris and was decided that because of its value for radio communications it would remain. During World War 1 the Tower became crucial for communications and played a roll in the capture of the infamous spy Mata Hari.
The Eiffel Tower remains today as the symbol of Paris, the City of Light. It is one of the primary tourist attractions of the city. There are stairs and lifts to the upper levels and observation decks and two restaurants. Recently an ice skating rink opens on the first floor in the winter and in the summer at the street level a swimming pool.