crossposted at Daily Kos and Truth & Progress
Last night, Tim Russert's CNBC Show discussed the state of the 2008 race as it stands now. This show, about which I've written before, has no transcripts available and almost every time I write about it, it is usually from memory. Last night, however, I did take notes.
I almost always watch this one-hour show as it allows the guests maximum time to elaborate their viewpoint. Unlike 'Meet The Press,' Russert rarely interrupts and proves what one of my favorite journalists ever, Robin MacNeil, once said of the concept behind PBS' The MacNeil/Lehrer NewsHour, "If you allow a politician or a policy maker more than a few seconds to speak, they might even say something substantive."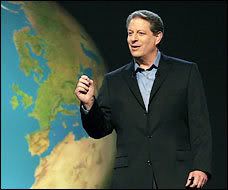 Towards the end of last night's show, Russert and his panel discussed Al Gore's political future.