Burning the Midnight Oil for Living Energy Independence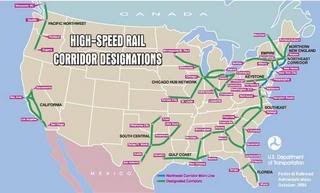 Last week I raised the certainty that Kasich will return $375m of Ohio's $400m grant for laying the 110mph 3C corridor track and running 79mph trains on them … and the likelihood that Wisconsin's Governor-elect Jobs Walkabout will return all or most of Wisconsin's $810m for the Milwaukee to Madison Emerging HSR corridor.
Thing is, even if the opponents of HSR killed two (or, see inside, three): they had to kill them all. Every HSR line that gets finished will undermine their case, and raise intra-regional and inter-regional jealousies as a force ensuring that HSR funding is provided at the Federal level and matching funds are raised at the state level.