cross posted from The Dream Antilles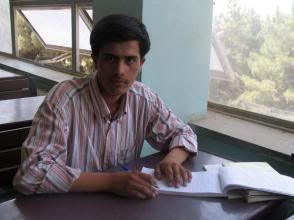 Sayed Pervez Kambaksh
A young man has been sentenced to death in Afghanistan for downloading a report from the Internet and distributing it.
The Independent reports:

A young man, a student of journalism, is sentenced to death by an Islamic court for downloading a report from the internet. The sentence is then upheld by the country's rulers. This is Afghanistan – not in Taliban times but six years after "liberation" and under the democratic rule of the West's ally Hamid Karzai.

The fate of Sayed Pervez Kambaksh has led to domestic and international protests, and deepening concern about erosion of civil liberties in Afghanistan. He was accused of blasphemy after he downloaded a report from a Farsi website which stated that Muslim fundamentalists who claimed the Koran justified the oppression of women had misrepresented the views of the prophet Mohamed.

Mr Kambaksh, 23, distributed the tract to fellow students and teachers at Balkh University with the aim, he said, of provoking a debate on the matter. But a complaint was made against him and he was arrested, tried by religious judges without – say his friends and family – being allowed legal representation and sentenced to death.
So much for debate and freedom of speech.
The UN, human rights groups, journalists' organizations and Western diplomats have urged the Karzai government to intervene and free Kambaksh. But the Afghan Senate passed a motion on January 30 confirming the death sentence. Welcome to the US puppet government and its barbarianism.
Want to respond to this?

Sayed Pervez Kambaksh's imminent execution is an affront to civilised values. It is not, however, a foregone conclusion. If enough international pressure is brought to bear on President Karzai's government, his sentence may yet be overturned. Add your weight to the campaign by urging the Foreign Office to demand that his life be spared. Sign the Independent's e-petition here
More across the border.