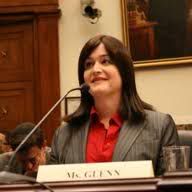 Vandiver Elizabeth Glenn, who goes by Vandy Beth, is a transgender woman who was fired from her job editing legislation for the Georgia General Assembly Office of Legislative Council when she informewd her supervisor that she would be transitioning from male to female in 2007. Legislative Council Sewell Brumby conceded to the court that Vandy Beth's "intended feminine appearance" was the reason for the termination.
The federal District Court ruled that termination to be a violation of the Constitutions's Equal Protection guarantee and discriminated againston the basis of her failure to conform to sex stereotypes. The state appealed the case to the 11th Circuit.
The decision is now in. Writing for the unanimous panel that included Judge William Pryor (appointed by W) and Judge Phyllis Kravitz (Carter), Judge Rosemary Barkett (Clinton) wrote:
An individual cannot be punished because of his or her perceived gender-nonconformity. Because these protections are afforded to everyone, they cannot be denied to a transgender individual…A person is defined as transgender precisely because of the perception that his or her behavior transgresses gender stereotypes.